Born: May 25, 1909

Died: February 8, 1993
Ohio connection: Birth
Greenville
Award-winning author Jean Gould was a prolific writer whose work included books for both children and adults. She is most well-known for her biographies of prominent figures in literature, theater, industry and politics. However, her early writing includes fairy tales, plays, and short stories for young children.
Born Jean Rosalind Gould on May 25, 1909, in Greenville, Ohio, to Aaron J. and Elsie (neé Elgutter) Gould. The family moved to Toledo, Ohio, when she was very young. Gould's family owned and operated a small publishing business. Her mother wrote poetry and editorials for their publications and her aunt was a newspaperwoman for half a century. It is no surprise, then, that Gould, who once said she was "injected, if not born, with printer's ink in my veins," started writing at ten years old. Gould graduated from Scott High School in 1927 and studied for two years at the University of Michigan, Ann Arbor, before receiving her B.A. in Literature and Journalism from the University of Toledo in 1937.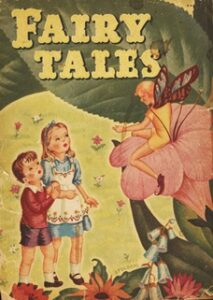 By the time she'd completed her education, Gould had written numerous short stories, fairy tales and children's plays; and she thought that she would become a novelist and playwright. In 1944, her first book, Fairy Tales, was published. Gould also loved to read and write poetry and, in 1946, published a biography of poet Emily Dickinson titled Miss Emily. It was the first but was by no means the last.
Gould moved to New York in the early 1950's, where she worked as a radio scriptwriter, part-time editor, and rewriter for Amalgamated Clothing Workers Union in their National Education Office, New York City (1952-1962). She continued to publish biographies and more, to include Young Mariner Melville (1956), The Poet and Her Book: A Biography of Edna St. Vincent Millay (1969), Robert Frost: The Aim Was Song (1964), Winslow Homer: A Portrait (1962), A Good Fight: F.D.R.'s Conquest of Polio (1960), and Modern American Playwrights (1966). The success of Modern American Playwrights led to her two-volume poetry project: American Women Poets: Pioneers of Modern Poetry (1980) and Modern American Women Poets (1984). Her writings appeared in Book World, Los Angeles Times Book Review, New Republic, New York Herald Review, New York Times Book Review, National Forum, Yankee, and others.
After residing in New York, Jean Gould returned to Ohio in 1992. She died of cancer on February 8, 1993, in Perrysburg, Ohio. 
Awards/Honors
Thomas A. Edison Award and prize for special excellence in contributing to character development of children (1959) for That Dunbar Boy; Radio Network Book Review's "Oppie Award" for Best Biography of the Year (1969); Ohioana Library Association Award (1969) and American Association of University Women Special Award (1970) for The Poet and Her Book: A Biography of Edna St. Vincent Millay; National Book Award nomination (1975) for| Amy: The World of Amy Lowell and the Imagist Movement. Huntington Hartford Foundation Fellowship (1962) for work on the Robert Frost book; fellowships at Yaddo, Saratoga Springs, New York (1964) and Huntington Hartford Foundation, Pacific Palisades, California (1965) for biographical studies of American playwrights; Ossabaw Island Foundation fellowships (1968 and 1976); Virginia Center for the Creative Arts fellowships (1978, 1979, 1983, 1984, and 1985) for studies of American women poets; MacDowell Colony Fellowships, Petersborough, New Hampshire (1974, 1975, and 1982); received the University of Toledo Gold "T" Award from the Alumni Association (1982); inducted into Jessup W. Scott High School Hall of Fame for Outstanding Achievement in the Arts in 1984; Wurlitzer Foundation Grant, Taos, New Mexico (1968 and 1975); and chosen UT's Centennial Alumna by the National Association of State Universities and Land-Grant Colleges (NASULGC) (1987)
Books