Born: June 8, 1928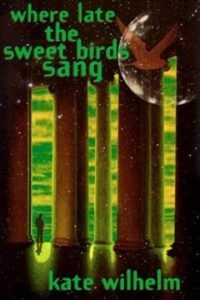 Died: March 8, 2018
Ohio connection: Birth
Toledo
Kate Wilhelm was born Katie Gertrude Meredith, daughter of Jesse and Ann Meredith, in Toledo, Ohio, in 1928. After graduating from high school in Louisville, Kentucky, she worked as a model, telephone operator, sales clerk, switchboard operator, and underwriter for an insurance company. She married Joseph Wilhelm in 1947, and they had two sons. The couple divorced in 1962, and she married Damon Knight in 1963.
Wilhelm began to write fiction in 1956. Her first published story, "The Pint-Sized Genie," appeared in the magazine Fantastic in October 1956. Her first novel, a mystery entitled More Bitter than Death, was published in 1962. She wrote novels, novellas, short story collections, and a multimedia science fantasy for theater. She won the Nebula Award several times, beginning with her short story, "The Planners," in 1968. She also won the Hugo and Jupiter awards for her novel, Where Late the Sweet Birds Sang, in 1977. Her specialties were psychological fiction, science fiction, social satire, and social science fiction. Wilhelm received critical acclaim for her work throughout her career. She was a founder of Science Fiction Writers of America (SFWA), and in 2016 SFWA named the Kate Wilhelm Solstice Award in her honor. 
After the death of her husband in 2002, Kate Wilhelm remained in Eugene, Oregon. She died at age 89 on March 8, 2018. 
Selected Awards and Honors
Nebula Awards, Science Fiction Writers of America, 1968, for best short story, "The Planners," 1988, for best novelette The Girl Who Fell into the Sky, 1989, for best short story, "Forever Yours, Anna," and 1993 nomination for novelette, Naming the Flowers; Hugo Award, World Science Fiction Convention, Jupiter Award, and second place for the John W. Campbell Memorial Award, all 1977, all for Where Late the Sweet Birds Sang; American Book Award nomination, 1980, for Juniper Time: A Novel.
Additional Resources
Wikipedia article with additional resources