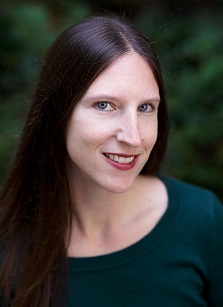 We would like to announce that Ohio author Laura Maylene Walter has been appointed the Ohio Center for the Book at Cleveland Public Library Fellow. Laura will be working to facilitate Center programming and other initiatives along with authors, aspiring writers, librarians, and readers across Ohio.
Laura Maylene Walter is the author of the debut novel Body of Stars, which was published in 2021 by Dutton in the US and Hodder Studio in the UK. In March 2021, the UK Booksellers Association selected Body of Stars as its Indie Fiction Book of the Month.  
Laura's writing has appeared in Poets & Writers, Kenyon Review, Slate, The Masters Review, The Sun, Ninth Letter, The Southeast Review, Michigan Quarterly Review, Chicago Tribune's Printer's Row, and many other publications. She is a recipient of the Ohioana Library Association's Walter Rumsey Marvin Grant and the G.S. Sharat Chandra Prize for Short Fiction. She has also been a Tin House Scholar and a writer in residence at Yaddo, the Chautauqua Institution, and Art Omi: Writers. Laura also teaches writing workshops in Cleveland and is the editor in chief of Literary Cleveland's Gordon Square Review.
You can find Laura on Twitter @LauraMaylene and online at lauramaylenewalter.com.
Photo credit: Catherine Young/Cleveland Public Library