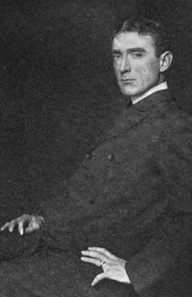 Born: January 10, 1872 or 1873
Died: March 3, 1952
Ohio connection: Birth
Zanesville
Howard Chandler Christy was born in 1873 in Morgan County and grew up in Duncan Falls in nearby Muskingum County. He grew up on his parents` farm, but showed more interest in adventures in and around the Muskingum River. He also took an early interest in painting. He left formal schooling at the age of twelve to help his parents on the farm and to use his spare time to work on his sketches and drawings. In 1889 he spent several months studying art in New York City. He returned to New York in 1892 to enroll in the Art Students League and the National Academy of Design, where he studied with some of the best art teachers in the United States, including William Merritt Chase, who took him on as a private student. Christy became well known through his picture "The Soldier's Dream", which was published in Scribner's magazine. He went on to create illustrations for a number of books, including a Dodd, Mead edition of Hamlet; Wanted – a Matchmaker; The Cavalier; The Crisis; The Courtship of Miles Standish; The Castaway; and Evangeline. He also produced illustrations for many magazines, including Scribner's, Leslie's Weekly, Ladies' Home Journal, Harper's, and Century. Pastel Portraits from the Romantic Drama, a portfolio of some of his best works, was published in 1899. His murals adorn the Ohio State House. His most famous painting, "The Signing of the Constitution of the United States," hangs in the United States Capitol in Washington.
Howard Chandler Christy died in Manhattan, New York, on March 3, 1952.
Additional Resources
Wikipedia: Howard Chandler Christy
Awards
Received medals from the Paris Exposition, the Chicago Exposition, the National Academy of Design, and the Society for Sanity in Art, all 1941. He was elected to the Society of Illustrators Hall of Fame in 1980.