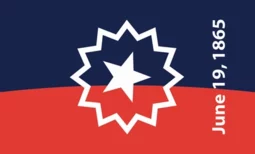 A selection of novelists, poets, and essayists to explore as we commemorate Juneteenth…
Frances Ellen Watkins Harper (1825-1911) was the one of the first Black women to be published in the United States with her Poems on Miscellaneous Subjects, published in 1854. See a selection of her poems at The Poetry Foundation.
Langston Hughes (1901-1967), whose formative adolescent years were spent in Cleveland, Ohio, was the voice of the Harlem Renaissance. Hughes continued his connections to Ohio throughout his life. (Explore Hughes' work at The Poetry Foundation) Suggested poem: "Let America Be America Again"
Virginia Hamilton (1934-2002) was the first Black author to win the Newbery Medal. Her book M. C. Higgins, the Great (1975) was also the first work ever to win both the National Book Award and the Newbery Medal. Suggested title: The People Could Fly: American Black Folktales (Find out more about this book and download the Choose to Read Ohio Readers Toolkit at the State Library of Ohio website)
Toni Morrison (1931-2019) , awarded the 1993 Nobel Prize in Literature, "who, in novels characterized by visionary force and poetic import, gives life to an essential aspect of American reality." (from the Swedish Academy press release) Suggested title: Beloved.
C.S. Griscombe, poet, essayist, and Professor and Robert Hass Chair in English at University of California, Berkeley. Suggested poem: "First Dream"
Rita Dove served as United States Poet Laureate from 1993 to 1995 among many other honors, awards, and accolades. Suggested poem: "Beside the Golden Door" (See Dove read the poem on PBS Newshour here.)
Hanif Abdurraqib is a poet, essayist, and 2021 MacArthur Foundation Fellow. Find a selection of his work at his website.
And many, many more…
We encourage you to explore Ohio's rich literary heritage through our website as well as the Choose To Read Ohio initiative.