BORN: 1987
OHIO CONNECTION: Resident
Columbus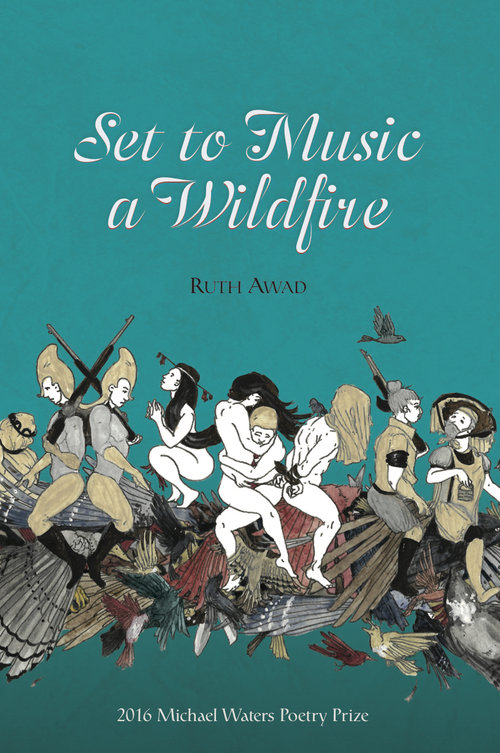 In 1976, Ruth Awad's father fled Abou Samra, Tripoli, Lebanon, to seek asylum in England during the Lebanese Civil War. After immigrating to the United States in the 1980s, he attended Southern Illinois University in Carbondale where he met Awad's mother.
Awad's mother, a nurse, painted as a hobby. She once cared for a patient who was a tattoo artist in the process of selling his salon. Creative spirits, Awad's mother and the artist bonded, and the patient ultimately amended the conditions of the sale of his shop to add that any potential buyer must hire her as an apprentice and give her tuition in the art of the tattoo. Tattooing would later serve as a bridge between her mother and Awad who took up the art herself.
Awad was born in Virginia. After her parents' divorce when she was six years old, Awad went to live with her father in Indiana when he was granted custody of her sister and herself.
While she was in the seventh grade, Awad's English teacher cultivated her nascent love of verse by assigning her special writing assignments such as writing sonnets.
After her graduation from Ohio State University with a bachelor's degree in English, Awad attended and graduated from Southern Illinois University Carbondale with an MFA in Creative Writing. Her thesis advisor, Judy L. Jordan (a professor of English and an acclaimed poet in her own right), proved to be a staunch supporter and stalwart friend who gave her the encouragement "to never settle for a good enough poem, but to strive to write the hard one." From the late poet Jon Tribble and Allison Joseph (an associate professor and poet who later became the program's director), Awad learned to consider her "work in the context of all the literature that's out there."
For Awad, poetry is inherently audience-based and comes to life through audience participation. More than an expression of the self, poetry for her is a conduit for interpersonal communication. She has said, "I always try to connect with the audience between poems regardless whether in person or on Zoom. Just some banter that contextualizes what inspired the poem or a little story that kind of dovetails with the poem. That helps to break up the reading a little bit and pique engagement."
Since moving to Columbus, Ohio, Awad's literary talents and contributions to literature have been recognized by various state organizations. In 2009, The Ohio State University bestowed upon her four prestigious awards: the Citino Undergraduate Poetry Award, the Gertrude Lucille Robinson Award, the Reba Elaine Pearl Burkhardt Roorbach Award in Creative Nonfiction, and the Vandewater Poetry Award. In 2012 and 2013, she won the Dorothy Sargent Rosenberg Poetry Prize. In 2016, she received the 2016 Ohio Arts Council Individual Excellence Award and the Michael Waters Poetry Prize from SIR Press. The Ohioana Library Association awarded her its Book Award for Poetry in 2018.
Working remotely from her home enables Awad to spend quality time with her husband and three beloved Pomeranians: Winnie, Penny, and Henry. Though a practicing vegan, Awad makes an exception regarding eggs, which she obtains fresh from her five industrious hens: Agnes, Beatrice, Dorothea, Maude, and Pearl.
Awad's primary vocation is Director of Investor Relations and Executive Communications at SageSure, a coastal property insurance company. She augments her income with occasional freelance assignments as an editor, copywriter, or tattooist. Among the tattoos which she has drawn for clients are a diverse array of birds, flowers, and symbols
Thoughtful conversations with friends, reading, watching television, self-introspection, and communing with nature are among the catalysts that inspire Awad's poetry. Having ruminated over her gestating poems throughout the week, Awad dedicates their commitment to paper during the weekends.
Sources and Additional Resources
Dupont, David. 2020, September 29. "Ruth Awad to Share Poems Touched by War, Loss, & Love in Virtual Reading as part of BGSU Virtual Arts Series." BG Independent News. Accessed March 6, 2023.
Gyosi, Geosi. 2014, April 14. "Interview with Award Winning Poet and tattoo Artist Ruth Awad." Geosi Reads: A World of Literary Pieces. Accessed March 3, 2023.
Handal, Nathalie. 2019 May 10. "The City and the Writer: In Tripoli, Lebanon with Ruth Awad." Words Without Borders. Accessed May 8, 2023.
Review of Set to Music a Wildfire: Tyler Robert Sheldon, The Los Angeles Review, 2017.
Review of The Familiar Wild: On Dogs & Poetry: Sundress Press, 2023.