From time to time, we plan to highlight writers who have called Ohio home who are better known for work in journalism, screenwriting, television scriptwriting, and other episodic, article, or essay forms. Today we meet Amy Braunschweiger, currently with Human Rights Watch:
After graduating from Maumee High School in 1993, Toledo native Amy Braunschweiger enrolled into Miami University. In her junior year, she was awarded a Congress-Bundestag Youth Exchange for Young Professionals fellowship from the U.S. Department of State and studied at the overseas campus of Miami University, John E. Dolibois European Center, located at the Château de Differdange in Luxembourg . In her senior year at Miami (1997), Braunschweiger was hired by MTV as one of their stringers with her beat being the nightlife, music, and art scene of Cincinnati.
Returning to the United States in her early twenties, Braunschweiger moved to New York City. Between 2000 and 2004, she was a financial journalist for Dow Jones Newswires and reported on breaking news. Her feature stories (3% of her output) became frequent fixtures in the Wall Street Journal. To reliably predict where the market would open, Braunschweiger analyzed oil and gold prices, the closing results of the Asian and European markets, and forecasted the impact of current events upon key sectors.
As a means of forcing herself to leave her New York City apartment, Braunschweiger began renting a cubicle at a writers' space near Union Square called Paragraph. Almost every weekday, she is hard at work by 11:00 am (without a laptop) and remains for eight hours before returning home. Through interactions at Paragraph, she has connected not only with fellow financial journalists but also with screenwriters, novelists, graphic novelists, and TV writers (such as those writing for "The Colbert Report").
For Braunschweiger, writing and music have a symbiotic relationship. While brainstorming for an article, she listens to the "mellow electronic music" of such bands as Air, the Gotan Project, and Kruder & Dorfmester. Once the concepts of her topic begin to coalesce, she switches to music "not too peppy, but not too slow" such as performed by Blonde Redhead (Lee).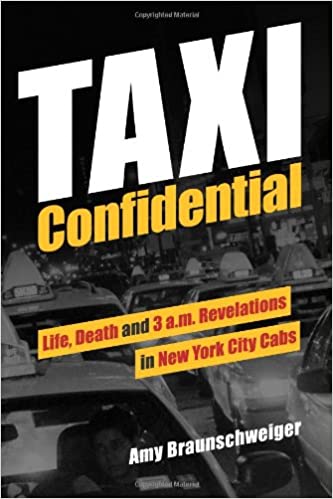 Before she became the senior digital manager and associate director (editorial) for Human Rights Watch (where she writes articles pertinent to world crises in social justice, politics, and women's rights), she freelanced for such diverse publications as The New York Times, The New York Sun, New York Magazine, The Village Voice, Wealth Magazine, and Natural Health.
In 2009, Amy Braunschweiger's first book, Taxi Confidential: Life, Death and 3 a.m. Revelations in New York City Cabs, was published by Octane Press.
Additional Resources
Christensen, Alyssa W. (2014, Aug. 31). Amy Braunschweiger: Web Communications Manager @ Human Rights Watch. Dear English Major. Accessed Dec. 5, 2022.
Lee, Bob Black. (2018, Sept. 30). Speed Up, Turn Here, Slow Down, Here's Just Fine, I'll Walk, Thanks. Bob Black Lee Interviews Amy Braunschweiger Author of Taxi Confidential. Idea Insider. Accessed Dec. 7, 2022.
Human Rights Watch. (2022). About People: Amy Braunschweiger, Associate Director, Editorial. Accessed Dec. 5, 2022.