On the occasion of what would have been Harlan Ellison's 89th birthday, the Ohio Center for the Book at Cleveland Public Library is proud to share rare archival videotape footage of the renowned author's last public appearance in his hometown. (Click on the still image below to experience the event on the library's YouTube channel.)
On Friday, September 21, 2007, Harlan Ellison, arguably "one of the world's greatest writers ever," participated in the Midwest debut screening of Dreams with Sharp Teeth, the biographical film documentary by Erik Nelson of Ellison's life and work, in a packed auditorium at Cleveland Public Library's Louis Stokes Wing in downtown Cleveland.
The evening began with a greeting from Cleveland Public Library's Deputy Director, Holly Carroll; an introduction to the evening from Ron Antonucci, Manager of the Literature Department; and testimonials from local literary luminaries Les Roberts, Mark Dawidziak, and Tony Isabella as well as heartfelt remarks from Ellison's niece, Lisa Rubin. Antonucci encapsulated the significance of the evening by saying "How often do you get to see a documentary film about a living legend with the living legend actually in the room with you."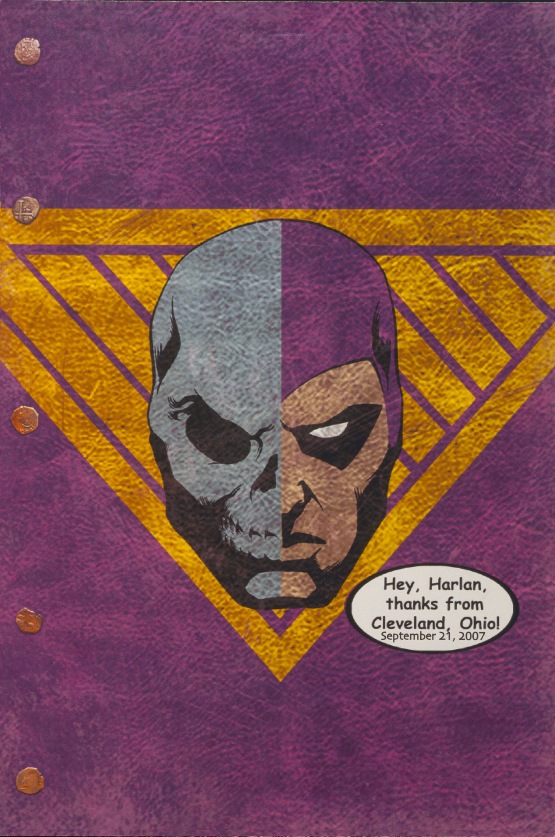 Ellison was presented with a commemorative booklet filled with tributes written specifically for the occasion by Stan Lee, Leo and Diane Dillon, Steven Barnes and Tananarive Due, Isaac Asimov, Michael Moorcock, Richard Matheson, and many others. You can read a high resolution PDF of the booklet by clicking the cover image to the right.
After the film, Ellison himself provided extensive remarks and heartfelt gratitude for everyone attending.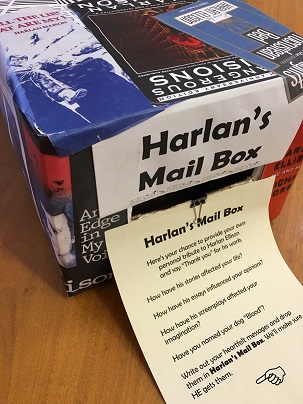 Ellison spent several hours signing books and talking with attendees who waited patiently in line to meet him. Attendees were also offered the opportunity to drop personal tributes into "Harlan's Mail Box" and to share how his work had influenced or touched them in some way.
Harlan Ellison died on June 28, 2018, and Mark Dawidziak wrote two moving tributes to his friend for The Plain Dealer. One published on June 29, the day after Ellison's passing; the other on July 1. The pieces speak to Dawidziak's friendship and to the complex nature of Ellison's life and work: his "contentious, controversial and combative" side and his "loyal, caring and devoted" side.
The Ohio Center for the Book is proud to celebrate Harlan Ellison's life and legacy. If you were at the event in 2007, we hope you enjoy re-living it. If you weren't, we encourage you to let this serve as your introduction to one of Ohio's legendary writers… then go out and read.