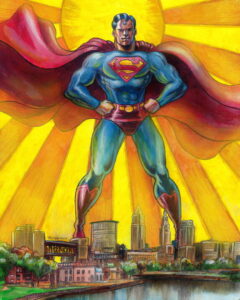 This year marks the 85th anniversary of the creation of Superman in Cleveland, Ohio. Thanks to a grant by the Ohio Humanities Council through National Endowment for the Humanities: Democracy demands wisdom and numerous sponsors, he Ohio Center for the Book at Cleveland Public Library and Ursuline College's Rust Belt Humanities Lab will host a two-month celebration, Superman's Cleveland: Lineage and Legacy, starting September 6 with more than 20 events across Northeast Ohio.
"Superman is the world's first superhero," explains program co-organizer and comics scholar Valentino Zullo, PhD. "Two Jewish high school students, Jerry Siegel, and Joe Shuster, invented him in 1938 in Glenville when America was emerging from the Great Depression and readying to enter World War II. Superman grew to be a worldwide icon in print and film as an enduring vision of hope while inspiring generations of storytellers and fans." Dr. Zullo also serves as an Ursuline College assistant professor and Anisfield-Wolf Postdoctoral Fellow.
Ohio Center for the Book Coordinator and program co-organizer Don Boozer added, "We are excited to highlight Ohio's extensive contribution to the medium of comics with this tribute to the superhero who really started it all. We have a wide range of events for all ages with everything from lectures and book discussions to comics-making workshops. We wanted to make Superman and the entire genre of superheroes approachable for everyone from comic fans to families to scholars to history buffs. We think everyone will find something engaging throughout the program."
As part of the celebration, on Saturday, October 14, It's a Bird! It's a Plane! It's a Cultural Icon! The Superman's Cleveland Conference will be held at Cleveland Public Library's downtown main branch with programs for all levels of interest from scholarly presentations to hands-on printing activities. The day-long event will be capped off with a conversation between Brad Ricca, author of Super Boys, the first comprehensive literary biography of Joe Shuster and Jerry Siegel, creators of the DC Comics and Mark Waid, comics writer and editor best known for his work on DC Comics titles The Flash, Kingdom Come and Superman: Birthright as well as his work on Captain America, Fantastic Four and Daredevil for Marvel.
Another highlight will be an afternoon of talks at the Rock and Roll Hall of Fame on Saturday, October 28, about Lois Lane with Laura Siegel Larson (daughter of Superman co-creator Jerry Siegel and 13-time Emmy Award Winning journalist) and Sarah Kuhn, author of Lois Lane: Girl Taking Over and the popular Heroine Complex novels—a series starring Asian American superheroines.
Other events will feature discussions and book signings with local and nationally known comics creators and authors like Chad Bilyeu, Sina Grace, Tony Isabella, Phillips Kennedy Johnson, and Terri Libenson.
"There have been so many blockbuster movies based on comic book series," states Dr. Zullo who organized the celebration with Don Boozer, manager of the Ohio Center for the Book at the Cleveland Public Library. "People often forget all those films can trace their roots to Superman and Cleveland. This anniversary is an opportunity to celebrate our city and its unique contribution to pop culture."
A complete schedule of events and full details are available at www.supermanscleveland.com.
Along with Ursuline College's Rust Belt Humanities Lab and the Ohio Center for the Book at the Cleveland Public Library, additional partners include Carol & John's Comic Book Shop, Bookhouse Brewing, Cleveland Foundation, Cleveland Institute of Art & Cinematheque, Cleveland Museum of Art, Cleveland Reads, Cuyahoga Community College, Kent State University College of Arts & Sciences, Lake Erie College, Literary Cleveland, Maltz Museum of Jewish Heritage Rising Star Coffee Roasters, Rock & Roll Hall of Fame, Siegel & Shuster Society, Temple-Tifereth Israel, West Side Market, and more.