Click the image below to view the recording on YouTube!

On Saturday, October 7, 2023, we hosted an online conversation between acclaimed comics creator Mark Waid and Ed Gross, veteran entertainment journalist and author of Voices from Krypton: The Complete, Unauthorized Oral History of Superman. In its over 700 pages, Gross's Voices from Krypton has brought together the voices of nearly 250 people in what has been called "the most comprehensive oral history of Superman to be committed to print." From Superman's creation by Jerry Siegel and Joe Shuster to contemporary interviews with actors, writers, publishers, and many more, Gross brings his formidable talents to bear in weaving the story of Superman into a rich tapestry chronicling the history of one of the most recognizable characters around the world. We hope you enjoy this conversation and Q&A!
Books and Resources mentioned in the program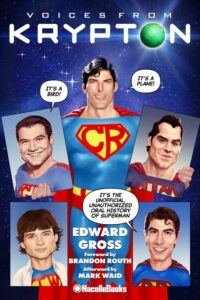 Voices from Krypton: The Complete, Unauthorized Oral History of Superman (publishers' site)
The Website of Writer Ed Gross
Voices from Krypton podcast homepage
The Illustrated Story of Dogs (mentioned by Ed Gross as his introduction to comics)
John Williams, Berliner Philharmoniker – Superman March (Official Music Video from Deutsche Grammophon)
"Kryptonite Nevermore" (mentioned by Ed Gross as his favorite Superman story) (Wikipedia)
"Superman Owes a Billion Dollars" (in Superman #148) and Elliot S. Maggin's prose novels Superman: Miracle Monday (mentioned by Mark Waid as his favorite Superman stories. Waid also mentioned Maggin's other prose novel Superman: Last Son of Krypton)
Superman: Man of Tomorrow (2020) and Superman: Legacy (Scheduled release in 2025) (mentioned during discussion of rebooting the DC/Warner Bros. brand, 28:28)
Superman: Birthright by Mark Waid (writer) and Leinil Francis Yu and Gerry Alanguilan (artists) (a pivotal scene was discussed in the conversation around 37:10) (Wikipedia)
The Adventures Of Superman (Radio Program): The Old Time Radio Researchers Jim Beshires Memorial Episode Library has over 1,000 episodes available for listening at their website. Access the library by clicking here.
Ruby-Spears animated Superman series (Wikipedia)
Word Balloon Comics Podcast episode, Sept. 27, 2023: "Mark Waid Owns The DC Universe" Description: "We talk Shazam, The Last Days Of Lex Luthor and The World's Finest Boo, Batman and Super man, and The Teen Titans Mini Series, and lots more digging in the DCU with Mark."
Supergirl: Being Super written by Mariko Tamaki and pencilled by Joelle Jones (WorldCat – search your local library)
Superman: The Harvests of Youth written and illustrated by Sina Grace
Elliot Makes Stuff Up: Elliot Maggin's limited series podcast reading his prose novels which were mentioned above with Superman: Miracle Monday being one of Mark Waid's favorite Superman stories! Hear it read by the author!