On Saturday, September 15, from noon to 1:00 p.m., Ohio Center for the Book and Cleveland Public Library invite you to celebrate the changing of the season amidst the readings of written and spoken-word poetry with our special guest reader poet and musician MaxWell Shell. The mic will open for others to read an original or favorite work after a brief Q & A with MaxWell. Free refreshments and snacks provided. Door prizes, too! For more information call the Literature Dept.: 216-623-2881.  We hope that you join us in the Literature Department, Main Library, 2nd FL. Cleveland Public Library is located at 325 Superior Ave.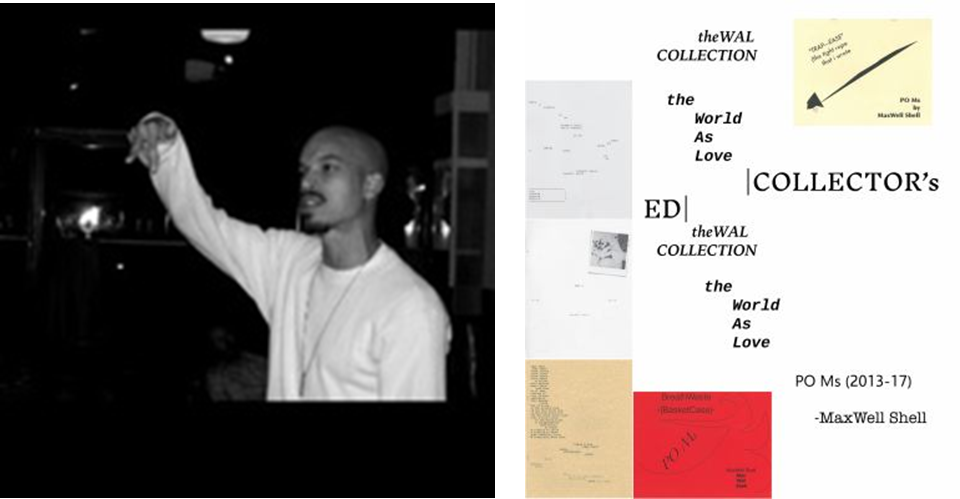 Anyone who has met MaxWell or heard him read his works, knows that he is more than just personable, that he has a compelling charm that inspires and delights. His latest book, The World as Love: Collector's Ed. (2017) is a collection of his "PO Ms," 2013-2017, that includes images of his drafts, drawings and photos. He is also the author of PO M s (2010). OCFB asked MaxWell to answer some questions about his work. What follows is an excerpt from the interview.  Download the entire Q&A here.
Q & A with Poet MaxWell Shell
OCFB: How old were you when you wrote your first poem, and who or what inspired you to write?
MS: in 5th grade I wrote A poem entitled "too short". it was part of a class project. it was well received because of its humorous under tones & obvious jesteresque jabs at my height & other shortcomings at such a young age.
OCFB: Your latest book, The World As Love: Collector's ED, is a collection of poems written 2013-2017. Was it difficult to decide which poems to include?
MS: the collections came thru an organic process. A true labor of love where all original expressions have been left in tact.
OCFB: Your poetry shows an extensive capacity for the English language; your love of the language comes shining through your works. Have you always had a way with words?
MS: in 3rd grade i wrote a short story about a scuba diver & a shark. when my teacher showed the other teachers, they thought she wrote it. I've always had the gift.
OCFB: I've read that to see the world with complete honesty, one should look to comedians, artists and poets. What do you want readers to take from your work?
MS: I want readers to be refreshed & inspired upon entering & exiting my work. my biggest & best work will AllWays lead people to learning to lead themselves. one by one. individual study is priceless.
OCFB: Any advice for those new to writing poetry?
only write if you feel you have to.
it has to be A necessary evil.
it has to burn inside you until
you have to let it go. to breathe.
to be bold & boldly go & look deeper & deeper is the only way to write
poetry.