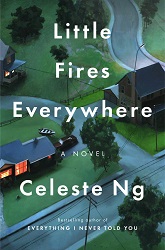 Born: 1980
Ohio Connection: Former resident; High school alumna
Shaker Heights
Celeste Ng was born in Pittsburgh, Pennsylvania, but moved to Shaker Heights, a suburb of Cleveland, before she turned ten. Her parents immigrated to the United States from Hong Kong in the 1960s. Ng attended the schools in the Shaker Heights School District from the elementary grades all the way through to graduation from Shaker Heights High School in 1998. She would go on to study at Harvard and the University of Michigan where she earned her MFA in writing and received the 2006 Hopwood Award for Short Fiction for her work "Every Little Things: Four Stories". The short fiction also won her the Andrea Beauchamp Prize and a Roy W. Cowden Memorial Fellowship at the University of Michigan.
Ng's debut novel, Everything I Never Told You published by Penguin Press in 2014, received popular and critical acclaim, going on to be a New York Times best-seller and winning multiple awards including the Massachusetts Book Award for Fiction (awarded by the Massachusetts Center for the Book) and the 2015 Alex Award (awarded by the Young Adult Library Services Association, a division of the American Library Association).
Little Fires Everywhere, Ng's second novel, was published in 2017 also by Penguin Press. The novel also won acclaim including being chosen as the Readers' Choice Award for Fiction by GoodReads. The novel would go on to be made into a mini-series for Hulu, executive produced by and starring Reese Witherspoon and Kerry Washington.
Ng's writing has appeared in numerous publications including The New York Times, The Guardian, The Kenyon Review, and others. She has also won the Pushcart Prize (2012) for her story "Girls, At Play" and a National Endowment for the Arts creative writing fellowship.
Additional Resources