The National Book Festival, sponsored by the Library of Congress, takes place from September 17 to 26, 2021. The great thing about having so much happen online this year is that you can "attend" anytime, either during or after the festival! Some in-person events are taking place in DC, too, like an event with Ohio's own Nikki Giovanni.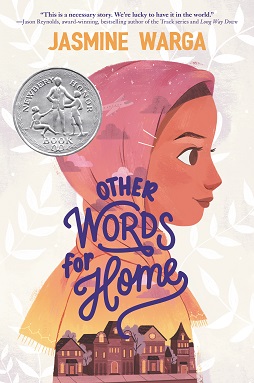 All the affiliate Centers for the Book around the country are represented this year at the Festival Near You section of the festival website. Ohio's page highlights our Great Reads from Great Places book and author: Other Words for Home by Jasmine Warga.
Jasmine Warga's award-winning debut novel, written in verse, has a young girl named Jude telling her story of growing up with her family and friends in Syria. Jude's world is turned upside when the decision is made for her and her pregnant mother to move halfway around the world to Cincinnati, Ohio, to live with her uncle's family, while her father decides to stay and tend to his business in Syria and her brother decides to stay and stand up for a cause bigger than himself. The lyrical writing provides Jude with an authentic voice, at times poignant, at times playful, and always engaging.
The Ohio Center for the Book has been fortunate to hold two conversations with Ms. Warga including one with her former teen librarian in Cincinnati (now the director of the library).
The other conversation was a panel discussion with the Kentucky, Mississippi, Massachusetts, and New Mexico Centers for the Book and their Great Reads from Great Places authors. That video is posted to our Ohio page at the National Book Festival site!
Other Words for Home was also chosen as a 2020 Choose to Read Ohio selection, and you can check out the Reader's Toolkit at that page as well.
In addition to the live, in-person event with Nikki Giovanni (which will also be live streamed for virtual audiences), the National Book Festival also has several video-on-demand presentations with authors with Ohio connections:
We encourage you to explore the National Book Festival and to celebrate the joy of reading! To get the latest news, subscribe to The Library of Congress National Book Festival Blog here.