Born: 1967
Ohio connection: Birth
Cleveland
Brian Michael Bendis is an award-winning artist and writer of comics/graphic novels. A prolific writer, Bendis was born in Cleveland, Ohio, and raised in a Jewish-American family. Bendis  always aspired to make comic books, reportedly declaring at age five that he would be the artist for Spider-Man. Later, he attended classes at the Cleveland Institute of Art for five years. While trying to break into the world of comics, he did illustrations for local Cleveland newspapers and magazines. In the mid-1990s, Bendis found work publishing independent comics, including Spunky Todd, Fire, A.K.A. Goldfish, and Jinx. In the late 1990s, he made the move to Image Comics where among his creations was the critically acclaimed, multiple award-winning series Powers. In the 2000s, Brian Michael Bendis began working for Marvel, bringing his talents to titles like Daredevil, Alias, Avengers, and House of M. In 2017, Bendis announced his move to DC Comics; debuting there with the landmark Action Comics 1000 in 2018.  
In addition to his work in comics, Bendis has also written for television. He worked on the 2003 and 2012 Spider-Man and other Marvel Comics cartoons. In 2016, Bendis won a Peabody Award as co-creator of Marvel TV's Jessica Jones for Netflix. He has also written for the Marvel Heroes video game.
Brian Michael Bendis currently lives in Portland, Oregon. 

Awards
Five Eisner Awards: Talent Deserving of Wider Recognition, 1999, for Jinx, Goldfish, and Torso, Best New Series, 2001, for Powers, and Best Writer, 2002 and 2003, for Alias, Daredevil, and Ultimate Spider-Man,  Best Writer of the Year, Wizard magazine, 2000, 2001, 2002, 2003; Excellence in Journalism Award, Cleveland Press; Inkpot Award, 2010. Honors include: Honorary doctorate in the arts from the Cleveland Institute of Art; Certificate of Excellence from the Central Intelligence Agency for his work on diversity issues.
Additional Resources
Wikipedia Article: Brian Michael Bendis
Cleveland.com article (Nov. 14, 2017) with Bendis talking about the Superman Exhibit at Cleveland Public Library influencing his decision to move to DC Comics from Marvel.
Image Comics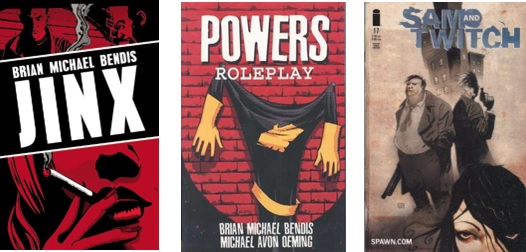 Marvel Comics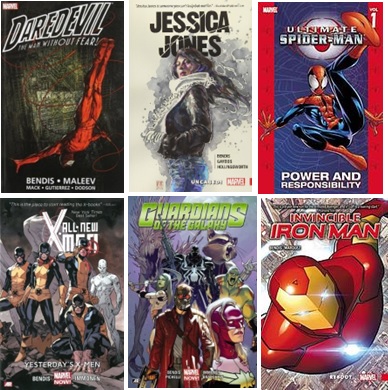 DC Comics