Born: May 10, 1910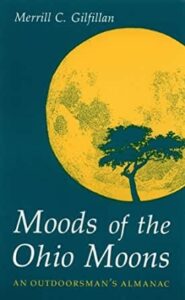 Died: July 12, 1996
Ohio connection: Birth
Castine
Born on a farm near Castine, Ohio, Merrill C. Gilfillan was the son of the late Clarence and Bertha (Pierce) Gilfillan. He attended Castine School and graduated from Monroe School in Preble County in 1928. Gilfillan graduated with a degree in zoology from Ohio State University in 1934. He started a career in wildlife research with the Ohio Division of Wildlife and helped establish one of the country's earliest game management programs in northeastern Ohio. In 1956 he transferred to the Ohio Department of Natural Resources as a writer and then an editor in the information and education section. He wrote for and edited The Ohio Conservation Bulletin. During his employment there, he founded the Buckeye Big Buck Club and the Buckeye Trail. Gilfillan retired from public service in 1972.
After retiring Gilfillan continued his writing. His book Moods of the Ohio Moons: An Outdoorsman's Almanac was inspired by the phases of the moon and pieced together poetic observations, visual descriptions of the landscape and brief essays to explore the American Midwest.
Merrill C. Gilfillan, conservationist and author, was a member of the Outdoor Writers of Ohio and numerous conservation organizations, he died July 12, 1996 in Rochester, N.Y.
Additional Resources
From the Ohio Department of Natural Resources. Learn more about the Big Buck Club and link to the website there.