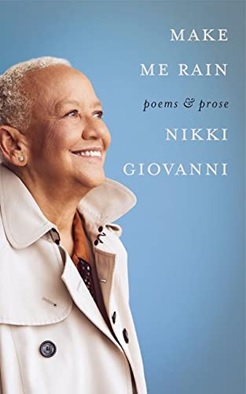 Born: 1943
Ohio connection: Resident
Cincinnati
Yolanda Cornelia Giovanni, Jr. was born in Knoxville, Tennessee, and called "Nikki" by her younger sister early on. The family relocated to Cincinnati, Ohio, when she was young, but Giovanni remained close to her outspoken grandmother, making frequent trips to Knoxville and spending some of her high school years there.
She enrolled at Fisk University in 1960 but was expelled after a clash with the Dean of Women. Giovanni returned to Fisk in 1964, graduating with honors in 1967. While a student, she became involved in political and literary activities during an important era in black history. This activism led to her organizing Cincinnati's first Black Arts Festival in 1967. Giovanni received a grant from the Ford Foundation to continue her studies at the University of Pennsylvania School of Social Work and borrowed money to publish her first volume of poetry, Black Feeling, Black Talk, in 1968. The book sold well and Giovanni used the proceeds to publish Black Judgement (1968), which includes the prose poem "Nikki-Rosa." A reminiscence of her childhood in a close-knit African American home, the poem became her most beloved and most anthologized work. After dropping out of the University of Pennsylvania, Giovanni moved to New York City. Her first volumes of poetry were extremely successful, and the author became a popular figure on the reading and speaking circuit. Giovanni's more militant and revolutionary voice shifted after her son was born in 1969. Her first book of children's poetry, Spin a Soft Black Song, was published in 1971.
Over the next decades, Giovanni maintained her prominent position as a strong voice of the African American community and has remained committed to the fight for civil rights. Her poems show strong racial pride and respect for family, and her informal style appeals to all ages. Giovanni, voted Ohio's Favorite Author of Poetry by Ohioans in 1999, has published over two dozen books, has won numerous awards, and has been honored with over 20 honorary degrees. Giovanni has taught at Rutgers University and The Ohio State University, and since 1987, has taught writing and literature at Virginia Polytechnic Institute and State University, commonly known as Virginia Tech.
Works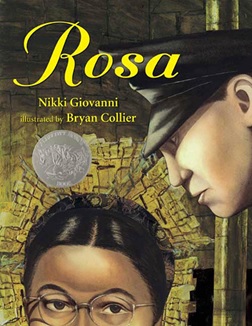 Awards
Grants from Ford Foundation, 1967, National Endowment for the Arts, 1968, and Harlem Cultural Council, 1969; named one of ten "Most Admired Black Women," Amsterdam News, 1969; outstanding achievement award, Mademoiselle, 1971; Omega Psi Phi Fraternity Award, 1971, for outstanding contribution to arts and letters; Meritorious Plaque for Service, Cook County Jail, 1971; Prince Matchabelli Sun Shower Award, 1971; life membership and scroll, National Council of Negro Women, 1972; National Association of Radio and Television Announcers Award, 1972, for recording Truth Is on Its Way; Woman of the Year Youth Leadership Award, Ladies' Home Journal, 1972; National Book Award nomination, 1973, for Gemini: An Extended Autobiographical Statement on My First Twenty-five Years of Being a Black Poet; "Best Books for Young Adults" citation, American Library Association, 1973, for My House; "Woman of the Year" citation, Cincinnati Chapter of YWCA, 1983; elected to Ohio Women's Hall of Fame, 1985; "Outstanding Woman of Tennessee" citation, 1985; Post-Corbett Award, 1986; Woman of the Year, National Association for the Advancement of Colored People (Lynchburg chapter), 1989. Honorary Doctorate of Humanities, Wilberforce University, 1972, and Fisk University, 1988; Honorary Doctorate of Literature, University of Maryland (Princess Anne Campus), 1974, Ripon University, 1974, and Smith College, 1975; Honorary Doctorate of Humane Letters, The College of Mount St. Joseph on the Ohio, 1985, Indiana University, 1991, Otterbein College, 1992, Widener University, 1993, Albright College, 1995, Cabrini College, 1995, and Allegheny College, 1997. Keys to numerous cities, including Dallas, TX, New York, NY, Cincinnati, OH, Miami, FL, New Orleans, LA, and Los Angeles, CA; Ohioana Book Award, 1988; Jeanine Rae Award for the Advancement of Women's Culture, 1995; Langston Hughes Award, 1996; NAACP Image Award for Love Poems; Living Legacy Award, 1998; National Literary Hall of Fame for Writers of African Descent, 1998; The Appalachian Medallion Award, 1998; NAACP Image Award for Literature for Blues: For All the Changes, 2000; The SHero Award for Lifetime Achievement, 2002; Rosa Parks Women of Courage Award (First recipient); American Library Association's Black Caucus Award for Non-fiction and NAACP Image Award for Outstanding Literary Work both for Quilting the Black-Eyed Pea, 2003; The Legacy Award, 2007; The African American Literary "Legends And Legacies" Award for Poetry, 2007; Ann Fralin Award, 2007; Literary Excellence Award from the 4th Annual Capital Book Fest, 2008; Certificate of Recognition for Literary and Artistic Achievement presented by the Hamilton County Committee of the Ohioana Library Association, 2008; American Book Award honoring outstanding literary achievement from the diverse spectrum of the American literary community for The Collected Poetry of Nikki Giovanni: 1968-1998, 2008; Reverend Martin Luther King, Jr. Award for Dedication and Commitment to Service, 2009; NAACP Image Award for Hip Hop Speaks to Children: A Celebration of Poetry with a Beat, 2009.
Additional Resources
Nikki Giovanni's official website
Wikipedia Article: Nikki Giovanni