Born: February 11, 1836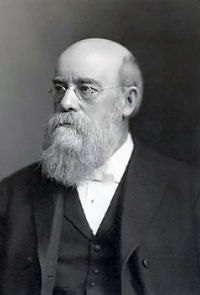 Died: July 2, 1918
Ohio connection: Resident
Columbus
Minister, author, and social reformer, the Reverend Washington Gladden was born in Pottsgrove, Pennsylvania in 1836. One of the most well-known writers of Congregational literature of his day, Rev. Gladden's writings and actions earned him the title of "father" of the Social Gospel movement. Few American religious leaders have had the influence and admiration Gladden garnered as he confronted religious, political, economic, and social issues facing the nation.
After his father died, Gladden was raised in Oswego, New York, where he spent much of his childhood on his uncle`s farm. He became a newspaper apprentice at age sixteen for the Oswego Gazette before attending Williams College in Massachusetts, graduating in 1859, and becoming ordained to the ministry in 1860. Gladden was the pastor of churches in New York City and North Adams, Massachusetts, before establishing himself in 1882 at the First Congregational Church in Columbus, Ohio. He would serve as pastor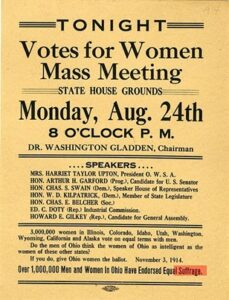 there until his retirement in 1914 and would remain a prominent leader there until his death in 1918. An advocate for social justice, Gladden led local and national causes for civil rights, labor rights, and voting rights. He was one of the first religious leaders in the United States to support unionization in the workplace and was strongly opposed to racial segregation. Gladden was able to build coalitions by focusing on commonality instead of difference. During a time when the United States was becoming industrialized, more urban, and more ethnically diverse, this common ground made it possible for Ohio to move relatively peaceably through a period that elsewhere in the United States was marked by violence.
Gladden employed his pulpit and writings to transform Christian thought and to promote social justice. His first book, Plain Thoughts on the Art of Living, was published in 1868. Gladden was religious editor of the New York Independent from 1871 until 1875 and contributed frequently to numerous periodicals. In 1876, Being a Christian: What it Means and How to Begin was published. The success of his next book, The Christian Way: Whither It Leads and How to Go On (1877), a call for the application of Christian values in everyday life, launched his leadership in the Social Gospel movement. Gladden authored 40 books — many of which include his sermons and lectures. His sermons, essays, and books connected his congregation, Ohioans, and the nation to the social, political, and economic issues they were facing. After he retired in 1914, Gladden remained active while serving as "minister emeritus" at the First Congregational Church. He was active in local politics, serving one term (1900-1902) on the Columbus City Council. He helped establish  Gladden Community House settlement house; served on the Board of Trade and encouraged influential members to apply Social Gospel principles in their businesses; and ministered to students and faculty at The Ohio State University.
Washington Gladden died at home in Columbus on July 2, 1918.
Honors
Gladden was awarded 35 honorary degrees to include an LL.D. degree in 1881 from the University of Wisconsin and PhD. from Notre Dame University in 1895.
Additional Resources
Washington Gladden from Wikipedia. Includes bibliography and external links to more information about his life and career.
Washington Gladden Social Justice Park (opened in Columbus in 2018) is dedicated to his memory and is the first park in the United States dedicated to the theme of social justice.