Thrills and discovery  is what you are sure to experience at National Book Festival 2018! Now in its 18th year, the country's largest annual literary event, which is organized and sponsored by the Library of Congress, will be held at the Walter E. Washington Convention Center in Washington, D.C. on September 1, 2018, 9:00 a.m. – 7:30 p.m.  Besides featuring presentations by award-winning authors, poets and illustrators, the event also features: the Library of Congress Pavilion (which offers a behind-the-scenes look at the world's largest library); an exposition floor with family-friendly activities; book signings; the chance to take photos with mascots and characters; and state exhibit booths that promote reading and library programs.  There will be 115 authors participating, including U.S. Supreme Court Justice Sonia Sotomayor, historian Doris Kearns Goodwin, novelist Amy Tan, former Secretary of State Madeleine Albright, U.S. Poet Laureate Tracy K. Smith and two-time Newbery Medal winner Kate DiCamillo. For more National Book Festival 2018 highlights click, here.
As a state affiliate of the Center for the Book in Library of Congress, Ohio Center for the Book will be represented by staff at a booth in the Pavilion of the States. The Pavilion of States is where America's literary heritage will be showcased as representatives from the 50 states, the District of Columbia and U.S. territories will greet and talk to Pavilion visitors about their state's literary heritage. Visitors will have a chance to "Discover Great Places Through Reading" with a brochure that lists 52 great reads and a map for kids. A visit to all 52 affiliates is encouraged, as each state will place a unique stamp or sticker on the map.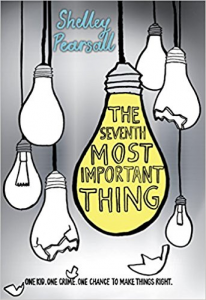 For the 2018 52 Great Reads list (download the complete list for 2018 here), the Ohio Center for the Book at Cleveland Public Library selected The Seventh Most Important Thing by Shelley Pearsall. Visitors will have a chance to meet Shelley Pearsall, who will make an appearance at the Ohio booth in the Pavilion of States; be sure to stop by. The Pavilion of States will be open from 9:00 a.m. until 5:30 p.m.