Born: 1950
Ohio Connection: Birth | Resident
Steubenville | Perrysville
Deborah Fleming is the quintessential Ohio author: born in Steubenville, raised in Bloomingdale, and residing in Perrysville. She is a poet, essayist, novelist, and scholar as well as the current editor (2002-present) and director (2016-present) of the Ashland Poetry Press. Earning her Ph.D. at Ohio State University, Fleming has been a member of the English faculty at Ashland University since 1993 where she teaches courses in creative writing, literature, and composition.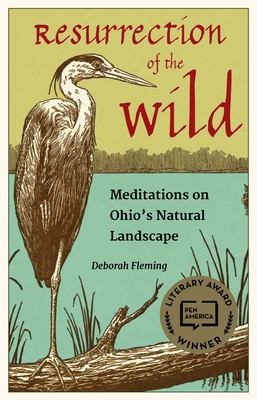 Fleming has written nonfiction, fiction, and poetry including the novels Reunion (2021) and Without Leave (2014) published by Black Mountain Press. Her poetry collections include Earthrise (Kelsay Books, 2021); Into a New Country (Cherry Grove, 2016); Morning, Winter Solstice (Vineyard Press, 2012); and two chapbooks, Source of the River (2018) and Migrations (2005), both published by Finishing Line Press.
One of Fleming's scholarly interests is the work of W.B. Yeats, and she has written or edited several books on this topic: Towers of Myth and Stone: Yeats's Influence on Robinson Jeffers (University of South Carolina Press, 2015); W. B. Yeats and Postcolonialism, ed. (Locust Hill Press, 2000); "A man who does not exist": The Irish Peasant in W. B. Yeats and J. M. Synge (University of Michigan Press, 1995); Learning the Trade: W. B. Yeats and Contemporary Poetry, ed. (Locust Hill Press, 1992)
Fleming's book of essays, Resurrection of the Wild: Meditations on Ohio's Natural Landscape, won the PEN-America Foundation's Diamonstein-Spielvogel Art of the Essay Award in 2020.
An equestrian and mountain-climber, Fleming now lives on a farm in northeast Ohio with her husband Clarke W. Owens, also a writer.
Selected Awards and Honors
PEN-America Diamonstein-Spielvogel Art of the Essay Award, 2020; Distinguished Scholarship Award, Ashland University, 2019; Pushcart Prize nominations, 2014, 2015; Asheville Award from Black Mountain Press, 2013; National Endowment for the Humanities Grant, 2008; National Council of Learned Societies Grant, 1996; Vandewater Poetry Award, 1986; Alumni Dissertation Research Award, Ohio State University, 1985